Print Hi-Tech: Jan & Feb
Printing, digital, and marketing convergence
More interesting news and case studies involving printing and digital technologies covered in my regular 'Hi-Tech' category.
Today: Magical illustrations for Harry Potter books; a new way to print lightning; 3D printing for aircrafts; InnoTech Ukraine, the first local forum of innovation technologies.
Magical Redesign for Harry Potter Books
Good old print books are still very popular among the readers. Numerous studies show that they do have a promising future. Surely, people are reading more ebooks, but print books don't seem to be going away anytime soon. With innovative technologies and projects , it is even easier to love printed books—especially hard-bound copies.
Kincső Nagy, a Hungarian design student, made new bindings and covers for all seven books about Harry Potter as her Bachelor's degree project. Mysterious glow-in-the-dark cover designs for J. K. Rowling's series suit the magical world perfectly.
Moreover, she created new 'pop-up' illustrations for Harry Potter and the Sorcerer's Stone. 'The Harry Potter books are extremely magical, mysterious and adventurous,' writes Nagy. 'These books are on the border of childhood, therefore my goal was to redesign them with illustrations that reflect this extraordinary atmosphere.' Awesome!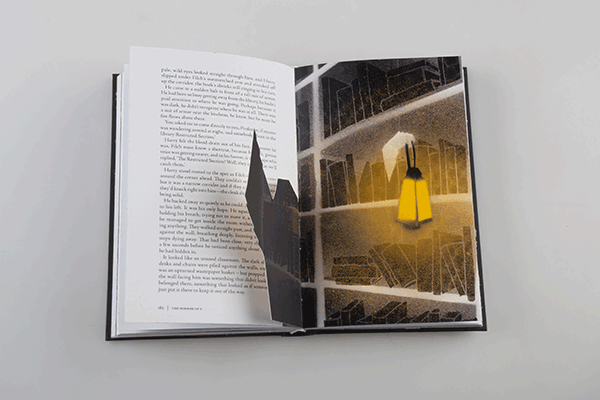 Printable Lightpaper: Imagine the Possibilities
Just imagine paper-thin light that can be applied to any surface! American Rohinni has developed a technology called Lightpaper.
The technology can be utilized in endless markets and enables entirely new design possibilities that are limited only by your imagination: electronics, transportation, displays, outdoors, lighting. 'With Lightpaper it's more of a platform of light that we don't even know how it's going to be used,' explains Smoot. 'All we know is that we're trying to unlock the ability to create light,' Rohinni CMO Nick Smoot commented.
You just print the light on what you want using high volume manufacturing processes. At present, ink is mixed with tiny LEDs (about the size of a blood cell) to form a conductive layer. When current runs through the diodes, they light up.
3D is in the Air
3D technologies excite the markets with continuous growth reports. In fact, additive manufacturing has become a strategic industrial production technology. Within the next 5 years, experts predict up to 400% growth for industrial 3D printing.
GE has already opened a mass additive manufacturing facility to produce the fuel nozzles for LEAP jet engines. Competing with GE, Rolls-Royce has announced flight-tests of the largest 3D printed aerospace component for aircrafts.
For its Trent XWB-97 engine, the manufacturer has 3D printed a titanium structure that measures 1.5m in diameter. So far, Rolls-Royce does not plan to incorporate the 3D printed part into the production run of the XWB-97, meant to power the Airbus A350-1000 aircraft. But the test will help to study the possibilities of mass additive manufacturing.
Bonus: Made in Ukraine
Despite the challenging situation in Ukraine, local companies continue to develop and implement up-to-date technologies.
InnoTech Ukraine, first Ukrainian forum of innovation technologies, will take place from April 9, 2015 to April 11, 2015 in Kyiv covering health care innovations, smart technologies, education and 3D printing.
The first day of this event opens with a 3D printing conference: industry experts and technology users will discuss prospects for 3D printing and additive manufacturing in Ukraine. 3D printing workshops included!
Olesya Zaytseva is a proficient translator and marketer with more than 20 years of experience bringing her clients' online presence to the next level through content translation, creation and promotion. Pursuing writing, archery, and combinatorial creativity. English, German, Ukrainian into Russian.